In the very north of Alsace, Alsace Verte is a mysterious territory which has managed to preserve its authenticity and its traditions. Cradle of the Terrifying Hans Trapp, also known as Father Fouettard, fortunately accompanied by Christkindel, the personification of baby jesus, Christmas retains a special place in it.
During Christmas time, many Christmas markets are organised, but also activities highlighting our traditions, shows, concerts... Not to mention the craftsmen, traders, producers, restaurateurs... who are mobilizing throughout this period to make your Christmas the best of celebrations!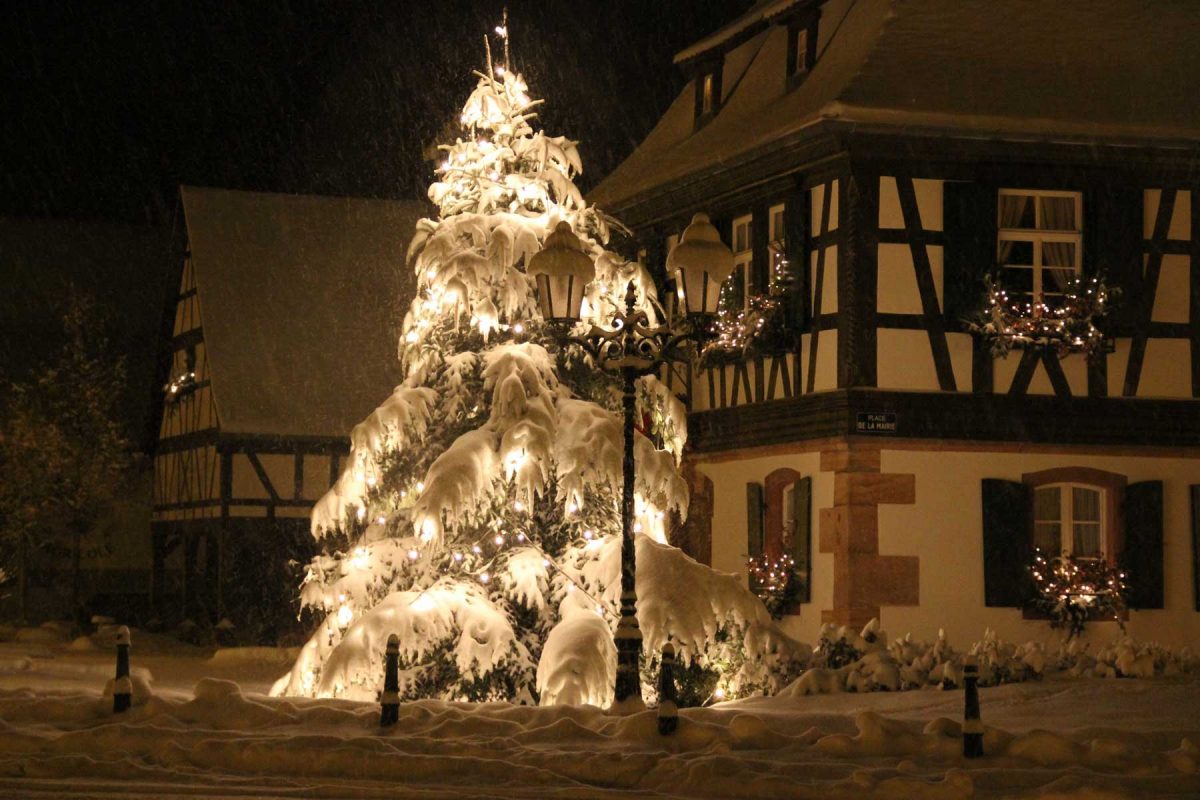 For a day, a weekend or more, with family or friends, soak up the special atmosphere that reigns in our towns and villages at this time of year!
Symbols and traditions
From the end of November, rituals and ancestral traditions make the heart of all of Alsace beat! During Advent, our towns and villages are adorned with lights, garlands and illuminated fir trees. Our streets and alleys, our squares and our parks shine with a thousand lights and invite you to travel in an authentic Christmas accompanied by sweet smells and festive songs.
The legendary characters of Christmas in Alsace Verte
Although the essential Père Noël also has a place, Christmas in Alsace is surrounded by a few magical and mysterious characters who come over the weekends of Advent to visit Alsatians! A bit of history, a pinch of legend and a few myths, Alsace Verte will take you into the magic of an authentic Christmas. During the Advent period you can come and meet them:
Saint Nicholas: He is the protector of children, widows, the weak and prisoners. On December 6 each year the Alsatians celebrate it. Sint-Niklaas rewards the most deserving children with treats and gifts. He is often recognizable by 3 elements: Wearing a miter, crosier in hand and wearing a long coat, he is often accompanied by a donkey and baskets.
The Hans Trapp: On the side of Wissembourg The story of Hans Trapp begins at Berwarstein Castle. The legend says that in the XIVth century, reigned the lord Hans von Trotta who terrorized the population. Hans Trapp would therefore hold its reputation from this malevolent lord. As the festivities approach, he accompanies the good Saint-Nicolas during the traditional parades. He threatens to take the disobedient children away in his big bag to abandon them in a dark forest from which they will never return.
The Christkindel : Young woman dressed and veiled in white, her hair is crowned with a fir crown surmounted by 4 candles. Christkindel move forward with grace and kindness. Source of light and endowed with eternal youth, it diffuses an aura of hope and shows the way to children terrified by the passage of the terrible. Hans Trapp.