A veritable green lung located in the heart of the Alsace Verte territory, the Reichshoffen Lake Regional Nature Reserve is a must for communicating with nature in complete serenity and observing aquatic fauna.
With an area of ​​approximately 16 hectares, the body of water is located in a remarkable setting close to the town of Reichshoffen, on the Schwartzbach river. Laid out in 1974 to meet a safety requirement, this artificial body of water has the main function of protecting the population of the old town of Reichshoffen from flooding, by regulating the capricious flow of the Schwartzbach.
Flooded in 1982, it was quickly colonized by a particularly diversified aquatic fauna which allowed it to be classified as a Voluntary Nature Reserve ten years later. In 2014, he obtained the Regional Nature Reserve label.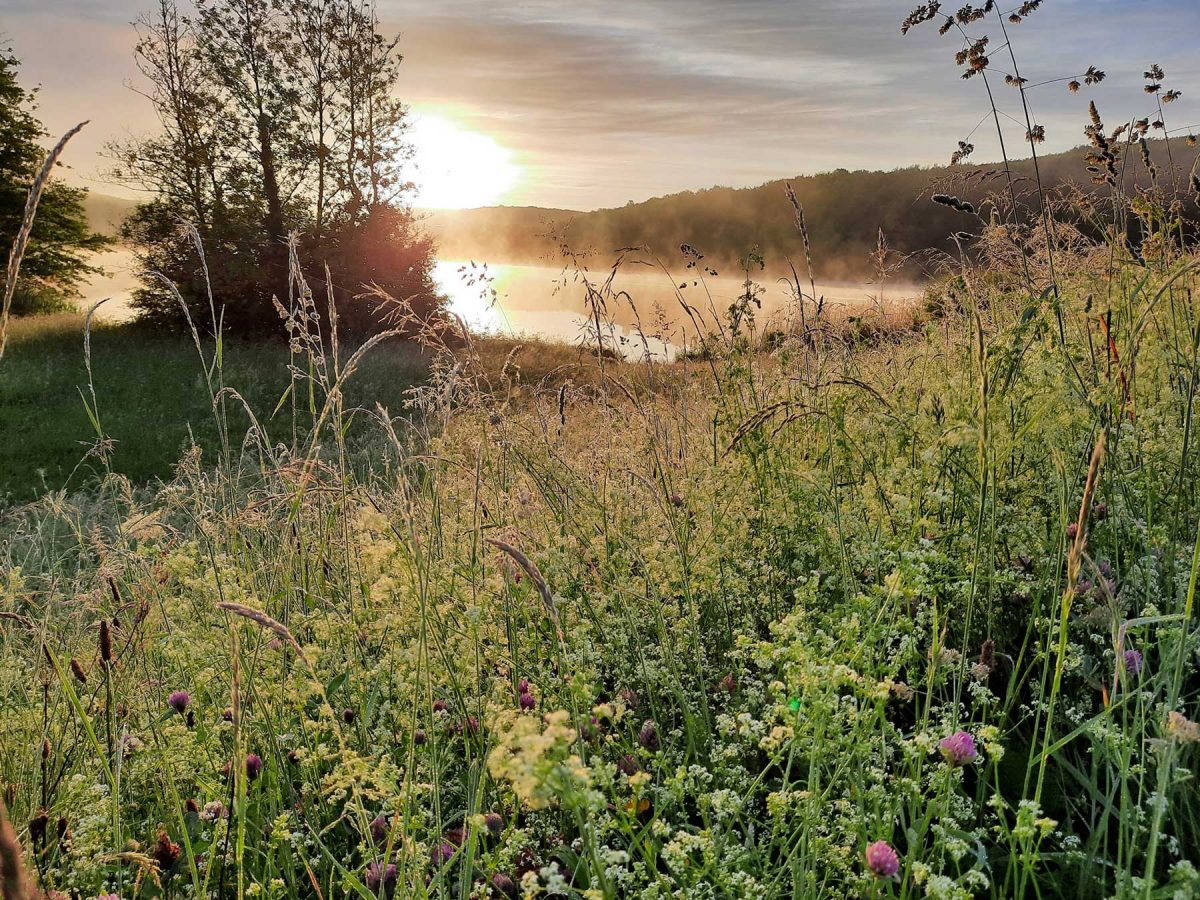 The lake of Reichshoffen, colonized by a diversified aquatic fauna, allows it to be classified as a Voluntary Nature Reserve and to obtain in 2014 the label of Regional Nature Reserve.
A nature reserve for lovers of fauna and flora
Today the lake of Reichshoffen has become an essential natural space located about 2 km from the city center of Reichshoffen and close to the village of Nehwiller, serving as a refuge for a wide variety of animal species. Perched on the water, an ornithological observatory was installed there by the Northern Vosges Regional Nature Park and made available to fauna and flora enthusiasts, allowing them to observe all year round, day and night: since 1982, 130 species have been recorded on the body of water or in the wetlands around it , about XNUMX of which are nesting species that breed there.
A harmonious balance seems to have been found allowing the sharing of this natural nugget and the respect of this remarkable site by the man who knew how to adapt his practices.
A popular walking spot
The Reichshoffen lake is also a popular place for walks: it attracts many walkers of all ages, families and sports enthusiasts in search of fresh air and calm every day... Everyone at their own pace and in their own way enjoys and take ownership of this natural setting, either by walking on the 2,4 km path that goes around it, or in a more athletic way on the fitness trail set up nearby, nestled in the heart of the forest.
Apart from hiking and fishing in season, any other swimming, canoeing or camping activity is prohibited there, in a desire for preservation. But picnics are allowed!
Near the body of water, the Eselsbreckle footbridge lengthens the walk and can lead to the chapel of Wolfartshoffen, a stone's throw away. A few hiking trails also start from there, including the one leading to the ruins of the Rauchenwasser forge…