Pottery is a thousand-year-old art in Alsace which has been able to develop thanks to the exploitation of local natural resources of earth, water and fire. While in the middle of the 19th century this activity was still present in 30 municipalities of the Bas-Rhin, today only two villages of potters remain in the north of the region: Soufflenheim on the edge of the forest of Haguenau and Betschdorf on the edge of the territory of Alsace Verte.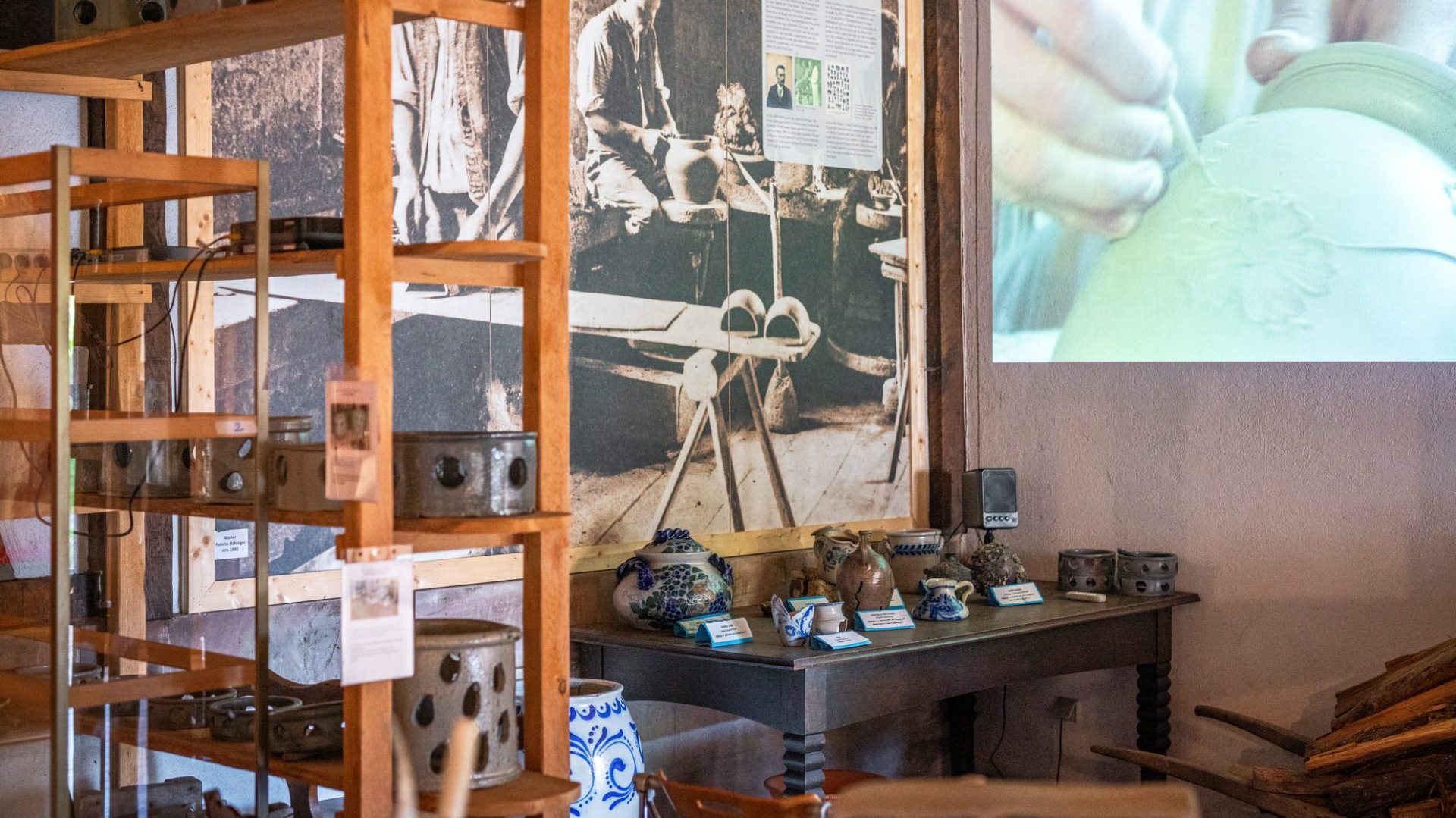 An ancient technique from the 16th century, originating in Germany
If the pottery of Soufflenheim is famous for its very colorful dishes which are used to cook Baeckehoffe and Sauerkraut, or for its Kougelhopf moulds, that of Betschdorf is distinguished by its ornamental values ​​and its qualities of conservation as well as for the sobriety of its colors.
A Betschdorf just like at Soufflenheim, the potters gladly open the doors of their workshops and shops and are always delighted to model the clay in front of visitors and explain their work to them.
Betschdorf stoneware pottery is always gray in color with cobalt blue decorations and salt-varnished. This ancient technique of vitrification at high temperature (1°C) dates back to the 300e century and was transmitted by a German potter originally from Westerwald who would have settled in the village at that time. This pottery very quickly made Betschdorf famous, so much so that in 1865 the village had no less than 60 potteries employing 400 people!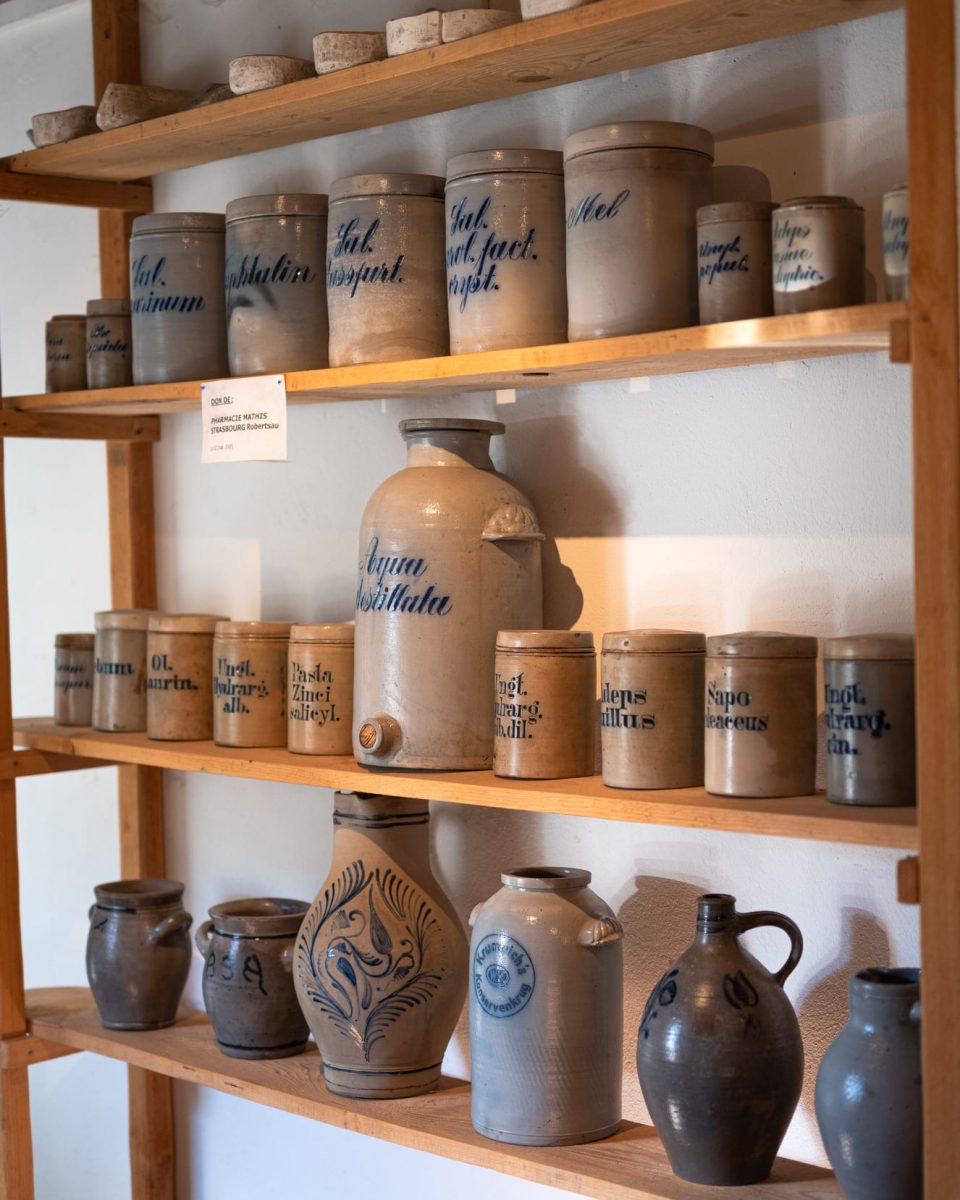 A utilitarian pottery that turns into a decorative object
In the past, Betschdorf pottery was used for utilitarian purposes only, and all Alsatian housewives had pots and other containers for storing food such as oil, salt, lard, eggs... Today it has essentially become decorative and to respond to changing tastes and uses, potters have been able to adapt by introducing colors other than blue into their decorations and by imagining new shapes. In any case, the tradition of the potters of Betschdorf is based on know-how most often transmitted from generation to generation. And since March 2022, the twelve potters of Betschdorf and Soufflenheim have obtained the approval of their geographical indication "potteries d'Alsace", which suggests a bright future for future generations!
Since March 2022, the twelve potters of Betschdorf and Soufflenheim have obtained the approval of their geographical indication "potteries d'Alsace", which portends a bright future for future generations!
The Pottery Museum, for the development of ancestral know-how
To discover the great variety of shapes and understand their uses, a museum was needed!
Le Pottery Museum, located in Betschdorf in an old farmhouse dating from the 18e century and comprising a magnificent restored half-timbered house, opened its doors in 1982. It allows a dive into the History of the evolution of the pottery art. It houses a rich permanent collection of salt stoneware pottery ranging from the Middle Ages to more contemporary productions. You can also discover a reconstructed potter's workshop and temporary exhibitions set up according to the seasons on different themes.
The identity of the territory of Alsace Verte is also characterized by a particularly developed and unique small craft industry that will not leave indifferent lovers of beautiful objects...