The spa resort of Niederbronn-les-Bains is nestled in the heart of the Regional Natural Park of Vosges-du-Nord, classified as a World Biosphere Reserve by Unesco. Land of traditions, Niederbronn-les-Bains, labeled "green station", enchants with its landscapes, its vestiges of History, its gastronomy, ... And conceals treasures of benefits thanks to its thermal springs.
From the XNUMXst century, the Romans established a city with these fabulous baths around the central source called, since the XNUMXthnd century: Roman source. Successive wars undermine the city, destroying it in part. The XVIIInd century saw the De Dietrich family develop the metallurgical industry, which is still active today. In 1926, the city obtained the classification of the first hydrothermal resort in Alsace. The same year, it was granted a gambling permit: its casino and its thermal baths now classify it unfailingly as a first-choice resort detour.
Its casino and its thermal baths now place Niederbronn-les-Bains as a first choice resort detour.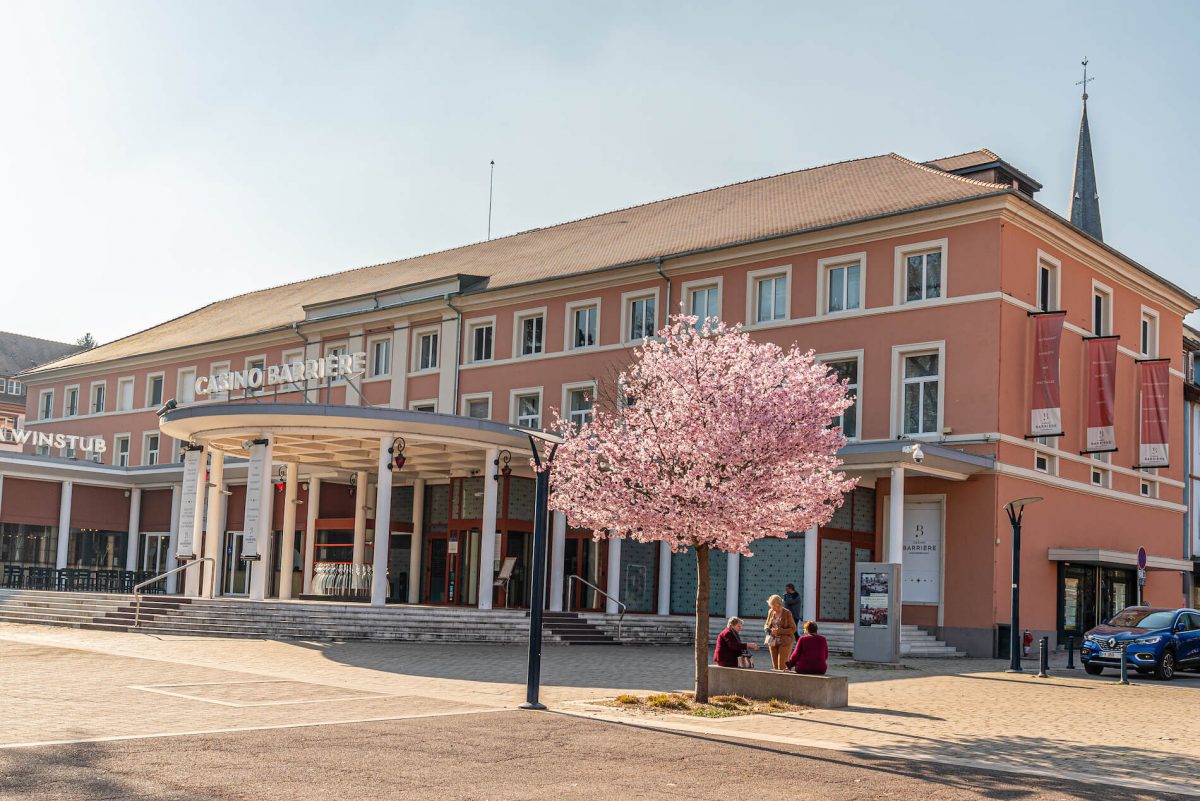 Today, the town has nearly 4500 Niederbronnais, and offers you an 18-hole mini-golf course, an indoor swimming pool and marked hiking trails from the Club Vosgien. During the cultural season, Moulin 9 offers a variety of shows.
La house of archeology presents a comprehensive overview of archaeological research in northern Alsace, from prehistory to the industrial era.
Fortified castles and pink sandstone rocks transport you to a magical world of legendary sites that can be discovered along the marked trails. Nearby, the castle of Wasenbourg, integrated into the network of fortified towns and fortified castles of Alsace, bears witness to the strategic position of Niederbronn-les-Bains. To gain height, go to the highest point in the Northern Vosges: "Le Grand Wintersberg" at an altitude of 581m. The tower was built between 1889 and 1890 by the Club Vosgien and stands 25m above the ground. It offers a panoramic view of the Vosges du Nord massif, the Black Forest, the nearby Palatinate and, on a clear day, you can even see Strasbourg Cathedral.
The 2 sources exploited, one for well-being and Valvital thermal cures, the other called source of Liese or Celtic source marketed in Celtic mineral water make the thermal reputation of Niederbronn-les-Bains.
The site is conducive to stays and holidays placed under the sign of re-oxygenation and relaxation. Relax, recharge your batteries, escape from everyday life: it's possible in Niederbronn-les-Bains!